Recycling Program
Landmark Plastic offers one of the most comprehensive lines of plastic products for the horticulture industry – and one of the most complete plastic recycling programs. We're proud to use millions of pounds of recycled plastic each year to make our products. It's just one part of our ongoing efforts to reduce the amount of waste sent to landfills, to conserve energy resources and to help sustain the environment.
We also make it easier for you to recycle your used horticultural containers. Just follow the 3 easy steps below to make a valuable contribution to the world's recycling efforts.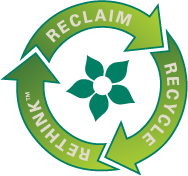 Sort used containers by plastic type, either polypropylene #5 or polystyrene #6, the two most common plastics for trays, pots and flats. Remove non-plastic materials like binding wire, wood and excess dirt.
Bundle and palletize the sorted plastic, securing the bundles for transport. Compress the bundles as densely as possible, with a final pallet height under 96 inches.
When you have 22 pallets sorted and bundled, just call or email Landmark Plastic. Our recycling expert, Tony Ferrara, will be glad to answer any questions and schedule a pickup time.