Trays
Landmark's transport trays are ready for growing, loading for travel and boosting retail sales. A wide variety of sizes match our injection molded and thermoformed pots, giving you added flexibility at retail.
Durable, tear-resistant material available on most sizes
Bottom drainage and easy, finger-tip extraction
De-nesting notches for automation equipment
Our square pot tray systems give you easy integration with other Landmark products. A variety of configurations helps maximize cart and shelf space.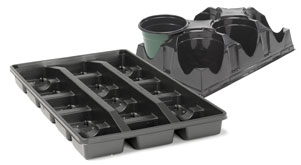 Transport Trays

4.50" Pots and Smaller

5.00" Pots and Bigger
Nursery

Nursery Carrying Trays

Nursery Transport Trays